In 2016 Eric Luecking was the first to hear the unthinkable. His brother, Matt (pictured to the right, at left; Eric at right), was dead, murdered. The big brother that lived as an inspiration to so many was gone, just like that.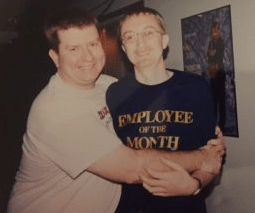 Since that life-altering day in October 2016 Eric has worked to further the possibility of VOD & restorative justice program implementation and is a national speaker advocating for restorative justice as a surviving family member and brother to Matt whose life was cut way too short.
Matt was an inspiration for the many lives he touched while living. After he passed in 2016, his friends and colleagues continued to spread his "Blessed For Another Day" messages through social media. In his honor, Eric created this website to focus on positivity.
Eric continues to spread Matt's contagious positivity and is a speaker, writer, and advocate for forgiveness, personal healing, and avenues for restorative justice. Since his brother's murder in 2016, he has been on a journey of self-reflection and finding his place again in the world, constantly looking at new ways to approach the hardships that life can bring. By openly sharing his story, he has found a way to re-channel his love for Matt to positively influence friends, family, and anyone else who will listen. Through speaking events at churches, universities, and podcasts, he tells a powerful story about how forgiveness has given him the freedom to move forward and cut any ties that would bind him to self-defeat.
Eric has collaborated with respected RJ practitioner and Michigan State University professor Derrick Franke, whose facilitation and VOD support for another family was part of the CNN Series The Redemption Project with Van Jones. Their collaborative work has included a lecture and discussion on VOD implementation steps in states in the US without that option. Eric is available to speak via web or at your community center or campus by contacting him via the website.
Podcast: Play in new window | Download | Embed
Subscribe: