What do School-Wide Restorative Practices look like in the real world?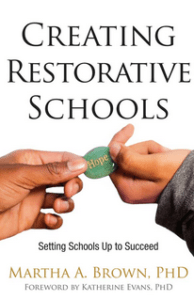 Restorative Justice on The Rise and Living Justice Press are excited and pleased to invite you to this fabulous opportunity to hear from author, educator and RJE (Restorative Justice in Education) expert, Martha Brown, PhD. Her new book, Creating Restorative Schools: Setting Up Schools to Succeed (Living Justice Press), just launched in January and is a significant resource for educators, students, parents and community members who want to learn the nuts and bolts of RJE. In the book you hear from students, teachers and administrators in the Oakland Unified SD who shared their stories with Martha.
Martha is President and Founder of RJAE Consulting, Consulting Services for Social Impact organizations.
View the webcast segments synchronized with Slides Here
Podcast: Play in new window | Download | Embed