Strengthen your knowledge of RJ Basics or learn for the first time, to support your entrance into exploring the field and its possibilities. DETAILS & REGISTRATION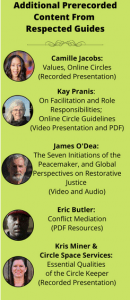 Class will be hosted by Molly R. Leach, founder of Restorative Justice on The Rise.  Molly is a seasoned advocate and practitioner who has worked within non-profit advocacy and services over the past two decades, specific to restorative justice, social healing, and peacebuilding. She has lectured and conducted basic facilitation intensives and has partnered with many trainers to provide a wide range of educational opportunities in the field.  Additional resources and pre-recorded materials from deeply respected guides such as Kay Pranis, James O'Dea, Eric Butler, and Kris Miner, to name a few.
This class is for Professionals, Community Advocates, Individuals interested in learning more in order to become more involved, or create, their own community programs.  This is not a facilitation skills training that certifies, but it will provide participants with a best practices lens of all aspects of basic work in the field.