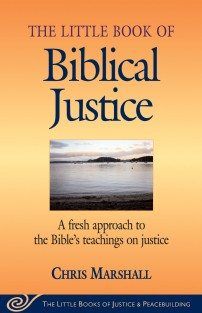 Biblical Justice; A Fresh Approach to the Bible's Teachings on Justice
Upfront, Marshall addresses the many complexities that surround "justice" in the Bible: the Bible seems to hold conflicting points of view; there is a huge amount of data to deal with; the world of the Bible and our present world are vastly different.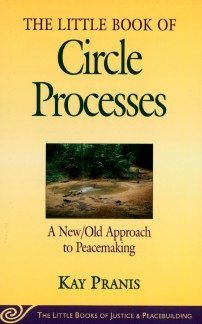 Circle Processes; A New/Old Approach to Peacemaking
Our ancestors gathered around a fire in a circle, families gather around their kitchen tables in circles, and now we are gathering in circles as communities to solve problems. The practice draws on the ancient Native American tradition of a talking piece and combines that with concepts of democracy and inclusivity.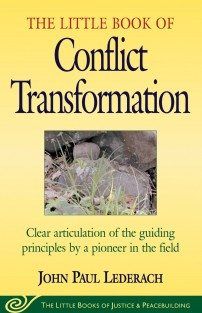 Conflict Transformation; Clear Articulation of the Guiding Principles by the Pioneer in the Field
This clearly articulated statement offers a hopeful and workable approach to conflict — that eternally beleaguering human situation.
John Paul Lederach is internationally recognized for his breakthrough thinking and action related to conflict on all levels — person-to-person, factions within communities, warring nations.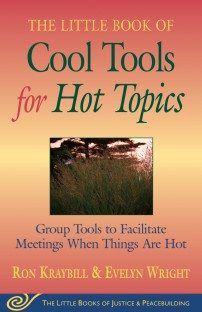 Cool Tools for Hot Topics; Group Tools to Facilitate Meetings When Things Are Hot
The Little Book of "Cool Tools for Hot Topics" — Group Tools to Facilitate Meetings When Things Are Hot shows how to help people hear each other when they feel like shouting; how to focus on the issues at stake rather than having a war of personalities; how to employ actual practices for better understanding (interviews, small-group discussions, role-reversal presentations); and how to move a group toward making a decision that all can honestly support.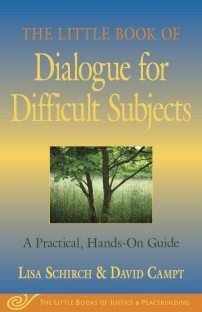 Dialogue for Difficult Subjects; A Practical Hands on Guide
The word "dialogue" suffers from over-use, yet its practice is as transforming and as freshly hopeful as ever.
Authors Schirch and Campt demonstrate dialogue's life and possibilities in this clear and absorbing manual: "Dialogue allows people in conflict to listen to each other, affirm their common ground, and explore their differences in a safe environment."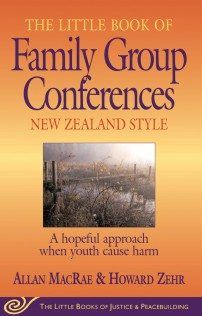 Family Group Conferences New Zealand Style: A Hopeful Approach When Youth Cause Harm
Family Group Conferences (FGCs) are the primary forum in New Zealand for dealing with juvenile crime as well as child welfare issues. This third volume in The Little Books of Justice and Peacebuilding Series is about the juvenile justice system that is built around these conferences.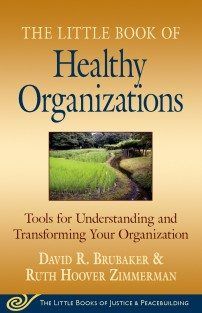 Healthy Organizations; Tools for Understanding and Transforming Your Organization
With this ambitious claim, the authors of this highly readable primer provide insightful analysis for evaluating and improving the health of any organization. They advocate a "systems approach," which views organizations as living systems, interconnected in their various departments, and interfacing with their environments.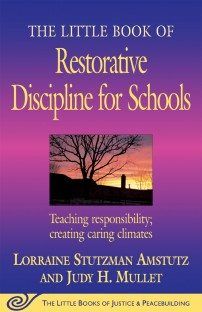 The Little Book of Restorative Discipline for Schools
Stutzman and Amstutz offer applications and models. Among them are class meetings for 5th graders; reintegration of 7th- and 8th- graders who were suspended; circle processes, which offer space for all voices to be heard, and also quiet tensions that are building; and community conferencing when trouble shapes up between students and neighbors.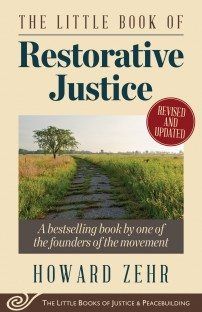 Restorative Justice Revised Edition
Howard Zehr is the father of Restorative Justice–a community-based approach to criminal justice that focuses on rehabilitating offenders and repairing the harm caused to victims–and is known worldwide for his pioneering work in transforming understandings of justice. Here he proposes workable principles and practices for making Restorative Justice possible in this revised and updated edition of his bestselling, seminal book on the movement. (The original edition has sold more than 110,000 copies.)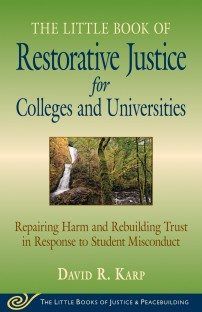 Restorative Justice for Colleges and Universities: Repairing Harm & Rebuilding Trust in Response to Student Misconduct
This highly practical book offers three models of campus practice, considerations when starting a campus program, and how to include Restorative Justice in the Student Conduct Code.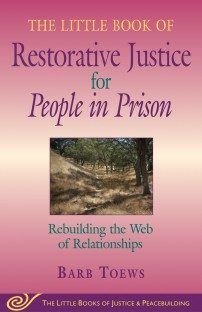 Restorative Justice for People in Prison; Rebuilding the Web of Relationships
With more than 2.3 million incarcerated individuals in the United States, prisoners are often regarded as a thrown-away population. While the criminal justice system focuses on giving offenders their "just desserts," it does little to explore or restore the needs or factors that lead to crime.
Strategic Negotiation; Negotiating During Turbulent Times
Most books on negotiation assume that the negotiators are in a stable setting.
But what about those far thornier times when negotiation needs to happen while other fundamental factors are in uproarious change — deciding which parent will have custody of their child while a divorce is underway; bargaining between workers and management during the course of a merger and downsizing; or establishing a new government as a civil war winds down.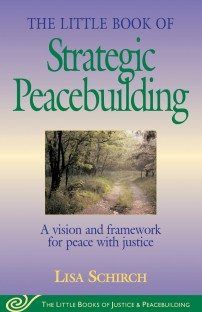 Strategic Peacebuilding; A Vision and Framework for Peace and Justice
Peacebuilding recognizes the complexity and the effort this elusive ideal requires. Schirch singles out four critical actions that must be undertaken if peace is to take root at any level) — 1.) waging conflict nonviolently; 2.) reducing direct violence; 3.) transforming relationships; and 4.) building capacity.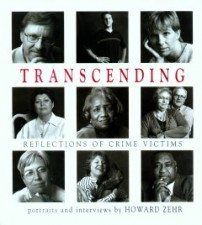 Transcending; Reflections of Crime Victims
Howard Zehr presents the portraits and the courageous stories of 39 victims of violent crime in Transcending: Reflections of Crime Victims. Many of these people were twice-wounded: once at the hands of an assailant; the second time by the courts, where there is no legal provision for a victim's participation.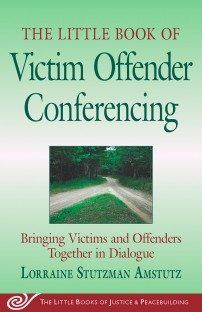 Victim Offender Conferencing: Bringing Victims and Offenders Together in Dialogue
Victim offender dialogues have been developed as a way to hold offenders accountable to the person they have harmed and to give victims a voice about how to put things right. It is a way of acknowledging the importance of the relationship, of the connection which crime creates. Granted, the relationship is a negative one, but there is a relationship.

Living Justice Press is a great resource for a multitude of books n the topic of Restorative Justice.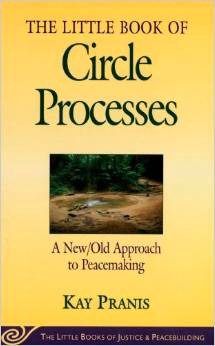 The Little Book of Circle Processes
Drawn from Native American practices, these peacemaking circles are used in many communities to deal with conflict and create stronger relationships. Includes detailed information about how to lead and/or participate in one of the circle process.
Buy The Little Book of Circle Processes Now from Amazon.com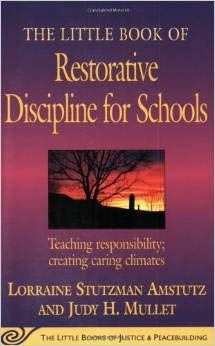 The Little Book of Restorative Discipline for Schools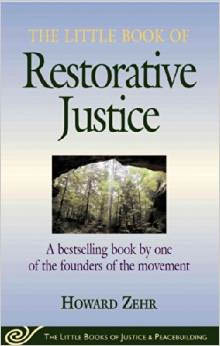 The Little Book of Restorative Justice
How should we as a society respond to wrongdoing? When a crime occurs or an injustice is done, what needs to happen? What does justice require? Restorative justice is a process to involve, to the extent possible, those who have a stake in a specific offense and to collectively identify and address harms, needs, and obligations, in order to heal and put things as right as possible.
Buy The Little Book of Restorative Justice Now from Amazon.com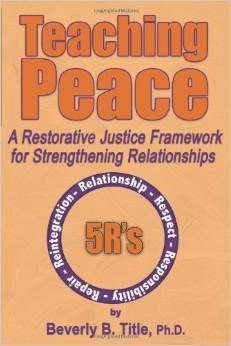 Teaching Peace introduces restorative justice with the story of how one community embraced this ancient practice and used it to transform their approach to justice – and found a framework for living rich and meaningful lives.
Buy Teaching Peace Now from Amazon.com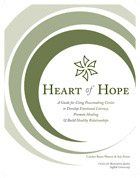 Heart of Hope provides specific formats for conducting effective Circles around developing emotional literacy and building healthy relationships. The book is being used extensively in schools by teachers and administrators as well as in health care facilities and elder abuse programs.
Buy Heart of Hope Now from Living Justice Press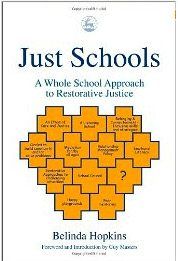 From a teaching background herself, Belinda Hopkins is at the forefront of the development of restorative justice in the UK, and in this practical handbook she presents a whole school approach to repairing harm using a variety of means including peer mediation, healing circles and conference circles.
Buy Just Schools Now from Amazon.com