Now in its third season and featuring freely accessible archives of over three dozen national and global pioneers in the field, Molly Rowan Leach founded Restorative Justice on The Rise as a response to her own witnessing at an up close and personal level of the devastating effects of the punitive justice system: her own mother has been incarcerated with mental illness for close to 15 years in the State of Idaho.
She believes there are many honorable and good people within the Correctional and Law Enforcement systems who would agree and are striving for viable solutions to a broken and inhumane system.
Her passion thus is helping bring forward the incredible work happening on every level in our world to integrate Restorative practices and justice into the mainstream.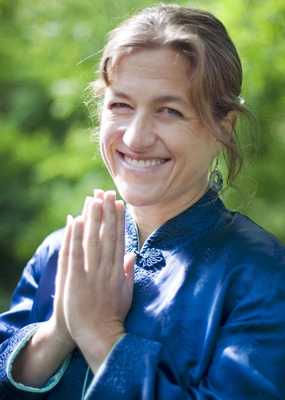 Ms. Leach is inspired also by the global traditions and movements of many on the periphery of societies and those who've experienced atrocity first-hand, and practices of the Indigenous peoples of our world, who've shown the way over time to help us regain a clarity that Restorative justice is nothing new, but a paradigm, practice, and a very viable systemic method whose time has come once again.
Molly Rowan Leach is an international virtual dialogue host and PR/Outreach professional with a passion for peace, justice and individual and collective healing.
She produces and hosts an international dialogue council focusing on Restorative justice practices and beyond, called "Restorative Justice on The Rise.
It is a live forum accessible worldwide with educational archives and free accessibility for individuals and communities hoping to access
Restorative Justice *IS* on The Rise!
Molly Rowan Leach is Host and Executive Producer of Restorative Justice on The Rise
She also hosted Justice Week during the Summer of Peace 2012 which was developed into a full 12-week track for SoP 2013.


Summer of Peace is a giant network of individuals and organizations worldwide mobilizing around building a Culture of Peace.
She has interviewed many individuals from diverse backgrounds, including Mahatma Gandhi's grandson Arun Gandhi, long-time colleague and former Amnesty Int'l Washington Director James O'Dea, Kay Pranis, Riane Eisler, Michelle Alexander, Sylvia Clute, Dominic Barter, and many others showing the way in transforming the justice system.
She helps facilitate and build structure surrounding virtual offerings that offer truthful dialogue, education and connection on a global level.
She also works with a few select clients supporting their work in peacebuilding and justice.
Molly currently serves as Restorative Justice Fellow to The Peace Alliance as well as Advisory Board Member to Full Circle Restorative Justice based in Salida, CO.
She also has served on other non-profit Boards including NAMI (National Alliance for the Mentally Ill) and Sustainable Futures of Boise, ID.
Molly's mother, Rae Ann Leach (#48985, Pocatello Women's Correctional Center) has been incarcerated in Idaho for close to 15 years. Her mother has a more severe form of mental illness.
This experience has informed Molly's desire to provide a platform for full spectrum dialogue, understanding, education, and peace back to the world while transforming the current punitive justice system, which she sees as motivated by profit and heavily currented with racial profiling and stigmatization of populations such as the mentally ill.